The relaunched Connections is here! Our digital community platform has been designed using your customer feedback, with new features and a dedicated virtual discussion forum…
We're thrilled to announce the relaunch of our digital community platform Connections. 
This relaunch of Connections is the most exciting update to our dedicated community platform yet, and we think you'll be delighted with it, too – because it's been entirely designed using customer feedback. Built by practitioners, for practitioners, the new-look Connections is now a space where you can support your learners with resources, self-serve your personal development needs, and network with our global practitioner community using the new virtual discussion forum.
Here's what you can expect from the relaunched Connections:
Community – grow your own network and be part of our global community

 

Support – engage your learners with timely and relevant self-serve resources

 

 

Personal-development – enable your own personal development journey as a practitioner

 

 
Let's dive into that in a little more detail. What can you expect from this fresh take on Connections? Well, you asked, and we listened. Firstly, there are improved search capabilities as well as a vibrant new look and feel that makes navigation easy. You'll be able to find exactly what you need the first time around – and you may even discover lots of new knowledge and content that you didn't know about. You can rate that content as helpful or not so helpful – and you can also easily share it with your networks. It's all there for you to push out into your own community.
New discussion forum
The really exciting part about Connections now is the virtual discussion forum feature. You, our practitioners, had made it clear to us that you wanted to be able to share best practice, network with practitioners from across the globe, and join in peer-to-peer learning. We're acutely aware of the level of expertize within our practitioner community, and we were keen to support that by creating a space for that on-the-ground knowledge to be shared. Cue the new discussion forum.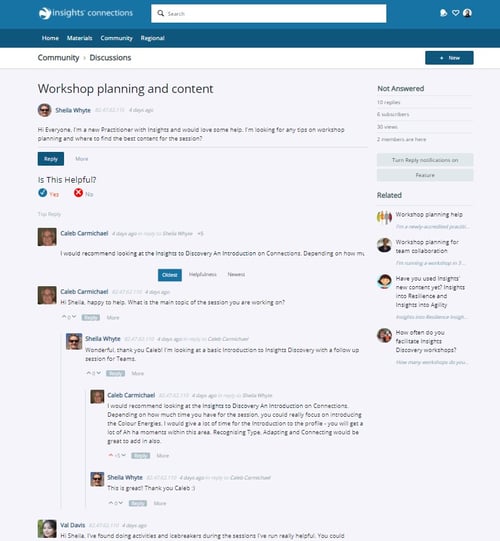 The discussion forum has that customer insight at its core and is a place where CPs can borrow knowledge – or share their own expertize. Post about the wins you've had over the past week… or reveal what areas you're struggling with. Maybe you're a CP looking for ice breakers that always go down well, or perhaps you need some top tips for delivering a remote session for the first time. This is what the community feature on Connections is for. Take part in question-and-answer sessions, share best practice, and network with practitioners going through the same challenges as you.
You asked for a helpful and supportive space for all CPs and that's what we hope we've created for you. Whether you're a seasoned practitioner with years of expertise to share or you're newly accredited and are looking to mine the knowledge of other practitioners, the virtual community on Connections is the place to be for all your daily support and resource needs.
To find out more about what you can expect from Connections, watch our new Connections video featuring Connections Product Owner Gene Kondusky and Connections Content Owner Kym Cargill.  
Driven by customer insights 
To celebrate the relaunch of Connections, we've also created fresh, exclusive digital content to share with your learners which can't be accessed anywhere else. Of course, we also made sure that this content was created entirely with you, our practitioners, in mind. That's why it's based on the three most searched topics in Connections right now, which are teams, leadership, and resilience.  
We'll continue to keep community insights front and centre with everything we do regarding Connections. Our aim is to always ensure we deliver useful, informative, and actionable content that will enable you to support your learners through these challenging times – and beyond. That's why we'll be paying close attention to make sure everything we do is driven by our customers' behaviour; what content you're downloading, which posts on the discussion forum you're interacting with, and what you're rating as helpful – or not helpful. It's your community platform, designed with you in mind, and we want it to be your one-stop shop for all your practitioner needs.
If you haven't been on Connections for a while now is the time to take a look. Interact, share your expertize, and enhance your own self-development. We'd love to know what you think.  
You can discover the new look Connections and all its exciting new features right here.