The Insights Global Report: Managing Hybrid Teams
The world of work is undergoing a profound transformation. So, what's at the forefront of this revolution?
The rise of hybrid working models.
As organisations strive to adapt to the changing landscape, the concept of work as we knew it has evolved tremendously. Hybrid teams are becoming increasingly prevalent across various industries and this transformation poses a new set of challenges and benefits. Does this mean leadership needs to be reimagined to fit a modern workplace? What new challenges face employees?
We surveyed more than 3,000 office workers across North America and Europe about their existing arrangements to understand the ups and downs of managing a hybrid team.
Check out the full Insights Global Report here.


From productivity boosts to communication hurdles: The dual nature of hybrid teams
We all know that 2020 turned the world upside down. The global workplace landscape was no different. With many more people working remotely or as part of a hybrid team, there has been a significant shift in how teams should operate.
At Insights, we decided to understand how this dramatic shift has impacted organisations, leaders, and employees across the world. We wanted to understand what kind of development and support they need to be successful in this new world of work.


Embracing flexibility: Why managers prefer the hybrid working model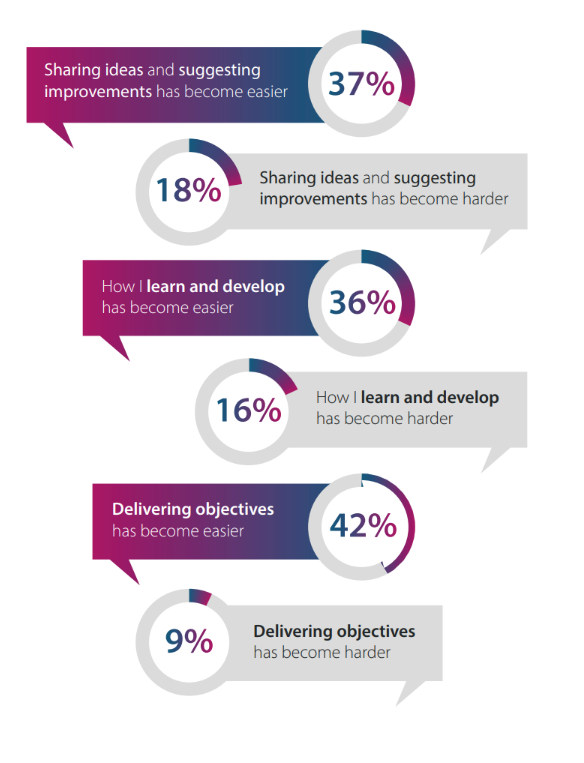 The management population has embraced the hybrid working model with both hands.
Our research states that 73% of those who manage hybrid teams want to continue working this way for the remainder of their career. Only 10% wanted to return to the office permanently one day.
But, what do these statistics mean in real terms? Crucially, very few managers felt a negative impact by switching to more flexible roles. This new way of working has adapted quickly and presents a positive impact on performance, ideas sharing, as well as learning and development.
What does this mean for organisations?
Harnessing this positivity and embracing development has become paramount for attracting, and retaining, top talent.
Don't take it from us, take a look at what managers of hybrid teams are saying.
"Sharing ideas and suggesting improvements has become easier"
"How I learn and develop has become easier"
"I perform much better since I started working in a hybrid team"
Growth opportunities inspire people to stay in a job. Start investing in employees, and they'll start investing in you.


Hybrid teams: A performance powerhouse redefining success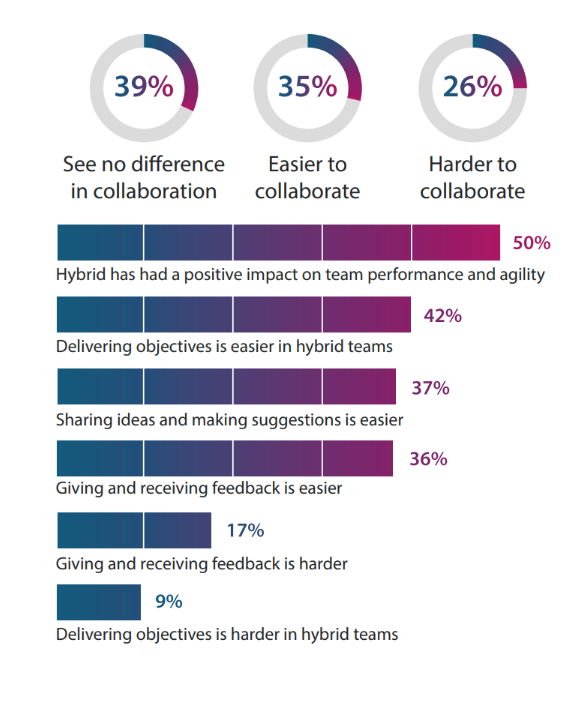 Hybrid teams aren't just flexible, it turns out, they're just as productive as traditional teams. Over one-third of managers perceived a noticeable increase in collaboration since moving to hybrid. Half reported that hybrid had a positive impact on team performance and agility.
Delivering objectives hasn't just become easier, our findings reinforce the consensus that hybrid teams are collaborating in a far more effective manner.
Where has this noticeable change come from? Before the rise of the hybrid working model, collaboration might have been restricted to physical meetings. Now, digital collaboration tools have made it possible to generate ideas with the touch of a button.

Are hybrid teams the secret sauce for work-life balance?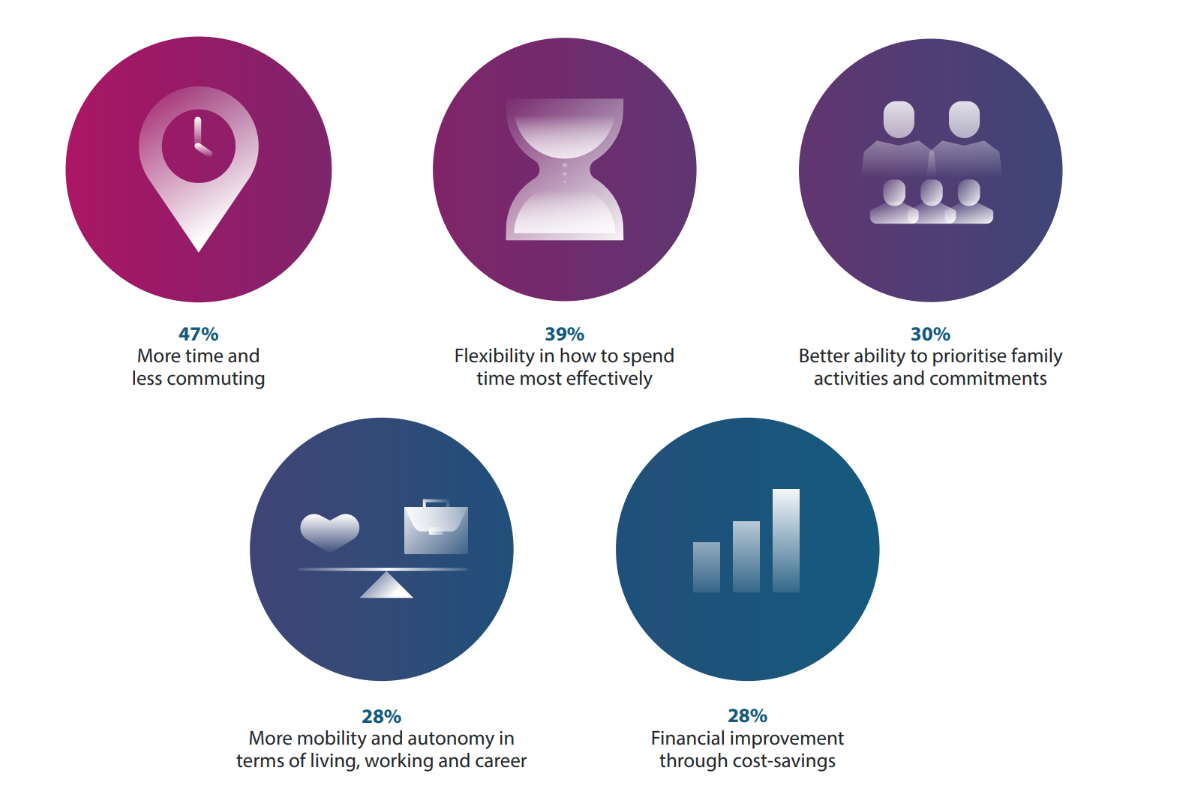 It will come as no surprise that the hybrid working model offers leaders and employees a far better work-life balance.
Although employee wellbeing and work-life balance were discussed before 2020, it's evident that the global pandemic furthered the agenda.
According to managers, the three main benefits of managing and working in a hybrid team are:
More time and less commuting
Flexibility in how to spend time most effectively
Better ability to prioritise family activities and commitments
These key benefits represent the importance of employee wellbeing. At Insights, we encourage managers to incorporate wellness programmes for hybrid teams to accommodate flexible schedules and different workplaces.


Surely it can't all be sunshine and rainbows? Navigating the challenges of a blended workforce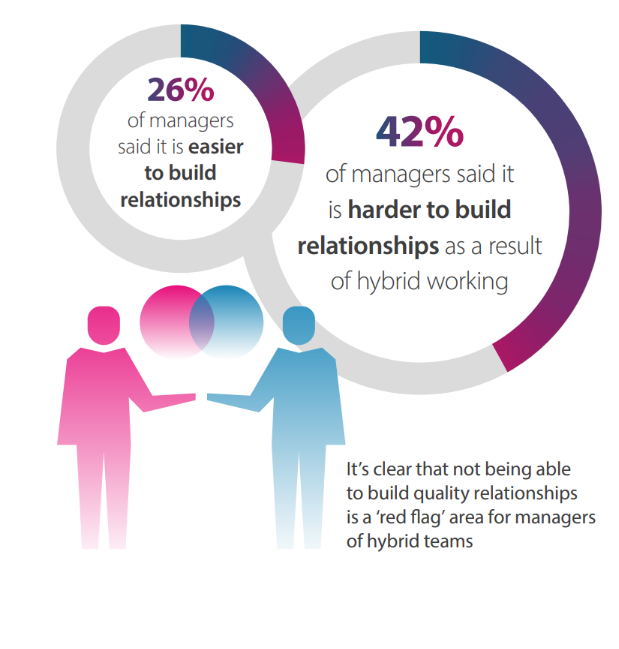 As with any major change in the workplace, hybrid teams offer a host of challenges for both employees and managers.
While collaboration, productivity, and an improved work-life balance are key benefits of the hybrid working model. For managers, one area in particular stood out as a key challenge: managing relationships.
With 42% of managers suggesting that it was harder to build relationships as a result of hybrid working, it's clear that this is the biggest issue facing hybrid teams.
What were the key challenges of building relationships in a hybrid team?
Lack of social connection and casual conversations
Difficulty getting to know new team members
Feeling disconnected from remote colleagues
Team culture is a vital aspect of any organisation. 35% of managers say they feel less connected to their team than before the pandemic, while 32% say that hybrid working makes it harder to work on team culture together.
Human connection is vital for a cohesive community. So, how can we help improve team relationships?
At Insights, we use the Discovery awareness model to help people adapt, connect with others and improve relationships. We also use the Discovery's memorable language of colour to make it easier to understand people's styles, strengths and issues. Find out more here.


Confronting burnout and battling loneliness in hybrid teams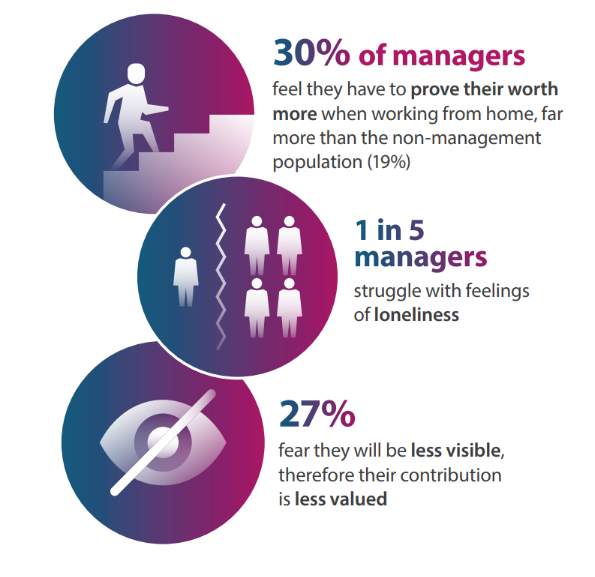 Managers can feel immense pressure when dealing with hybrid teams.
Despite employees looking toward them for guidance. It's important to understand that managers are not immune from insecurity, loneliness, or burnout.
Key feelings presented by managers:
30% feel they have to prove their worth more in a hybrid team
1 in 5 managers struggle with feelings of loneliness
27% fear they will be less visible in a hybrid environment
Organisations need to build a psychological safety net for their leaders emotionally and support them through feelings of segregation or loneliness.
At Insights, social occasions are an inherent part of our culture, which helps to create stronger connections and builds a unified community. Our research suggested that employees and managers highly value the chance to meet with colleagues in an office space at least a few times per week.


Empowering hybrid teams with Insights Discovery



In the dynamic landscape of hybrid teams, effective communication, collaboration and team culture are paramount. As discussed earlier, the emergence of hybrid teams brings forth a unique set of challenges, including risks of burnout and loneliness.
To navigate this, managers and employees can leverage the power of Insights Discovery.


Enhancing relationships and communication
Insights Discovery offers a deeper understanding of individual preferences, communication styles, and behaviours. This knowledge allows managers to adapt their leadership approach to meet the diverse needs of team members. By incorporating open dialogue and embracing different communication styles, teams can bridge the gap between virtual and physical workforces.
Improving employee engagement and wellbeing
Insights Discovery empowers employees with self-awareness, helping them to recognise their strengths and potential weaknesses. This individual self-awareness builds engagement and their wellbeing improves. Managers can use this insight to tailor their leadership style to ensure that employees feel valued.
Insights Discovery serves as a powerful tool to enhance relationships, build stronger connections, and cultivate a thriving team culture. Find out more about Insights Discovery here.
Download the full Insights Global Report here to find out more information: Button